Blog
Reel Creations
---
April 19, 2015
Cosmetics
---
How Reel Creations Came About
Fred C. Blau began his career in 1964 as an apprentice to Gordon and George Bau at Warner Bros. Studios. During that period not only was he being trained to be a motion picture make-up artist but was also involved with formulating cosmetics and rubber appliances. His first assignments as a make-up artist were "Who's Afraid of Virginia Wolfe", "Cool Hand Luke"and "The Illustrated Man".
Some of the projects he has worked on during his make-up career of some 40 years (short list) are "Apocalypse Now", Kate Jackson in "Charlie's Angels", "Scarecrow and Mrs. King", "Beauty and the Beast", Roddy McDowell in "The Planet of the Apes" TV series, "Adams Family Values","Con Air", "Armageddon", "The Grinch" and the most recent "Planet of the Apes".
Along with department head Kevin Haney, Mr. Blau received a British Academy of Film and Television Arts nomination for best make-up for the film"Adams Family Values". He was also nominated for five Emmy Awards for"Fall From Grace" with Kevin Spacey and Bernadette Peters, "Burning Bed" with Farrah Fawcette, two "Beauty and the Beast" episodes with Linda Hamilton and Steven Spielberg's "Amazing Stories" for which he won his Emmy.
Blau is a member of and serves on the board of the Academy of Motion Picture Arts and Sciences and is a member of the Television Academy of Arts and Sciences.
In the early 1970's Blau was presented the challenge to come up with a realistic looking artificial blood. Today it is known asREEL Blood. Then in the late 1970's, because of his experience on the movie "The Illustrated Man", Blau was offered the movie "Tattoo" with Bruce Dern and Maude Adams. At that time there were no inks that were realistic looking or long lasting, so we invented REEL Body Art Ink – thus the birth of REEL Creations, Inc. During this movie the REEL Body Art Process, which was invented for "The Illustrated Man", was further developed for both the entertainment industry and commercial use.
Reel Creations Products
REEL Creations, Inc. products are specialized cosmetics for the entertainment industry. Products include REEL Body Art (temporary tattoos), REEL Body Art Inks, REEL Body Art Pens, REEL Blood, REEL Airbrush Ink and much more. REEL Creations products have become the standard in the entertainment industry for their durability, realistic look and natural appearance. The make-up artists who use these products know their versatility, convenience and speedy application. Touch-ups, if necessary, are fast and effortless.
REEL Creations, Inc. stands behind all of the products 100%. They take pride in offering product support and assistance to guide you through any project or difficult situation. 
DON'T YOU THINK IT'S TIME TO "GET REEL"?
Fred Blau's Portfolio
Reel Creations, Inc. originated in 1980. Fred Blau is the President and principal shareholder in the corporation. He has been a motion picture and television make-up artist since 1964 and has had extensive training in the manufacturing and formulation of make-up currently used in the entertainment industry. Many products he has formulated are standards for the industry such as REEL Blood, REEL Body Art and Body Art Ink, REEL Cover-up, REEL Blue Aqua Sealer and many other products that are waterproof, long lasting and have the benefit of minimal up keep.Included in this movie presentation are a few of the effects using REEL Body Art and REEL Body Art Inks.

Blade I, II, and III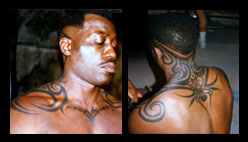 You will notice Wesley Snipes' tattoos in "BLADE I, II and III". These were manufactured by REEL Creations, Inc., created by Freddie Negretti (renowned tattoo artist), applied by Mr. Snipes' personal make-up artist Cindi-Reece Thorne.
The Grinch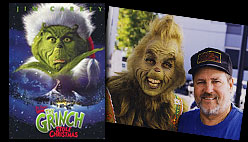 In the movie "THE GRINCH", world renowned, multi Academy Award winner Rick Baker designed the whole make-up look. Mr. Carrey's make-up was rendered by up coming famous make-up artist Kazuhiro Tsuji. Mr. Blau was invited to make-up the photo double for Mr. Carrey. During this time, a certain make-up was created for the Grinch and because of the activity that the double has to go through, many of the touch ups were done using REEL Body Art Inks.
Water World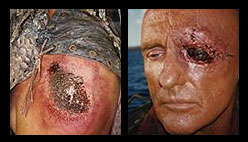 "WATER WORLD" presented many challenges. One of the major challenges was to come up with a make-up that would last on Dennis Hopper's "Smokers" in the ocean. Fred knew what to use and after showing the producers that this could be done, they gave him the green light to set up a laboratory on location to research, develop and manufacture REEL Body Art Inks specificically for this production. Every day we were able to 'tweak' the product on 75 stuntmen (our animal testing) until we achieved our goal and bring REEL Body Art Inks to perfection.
Show Down in Little Tokyo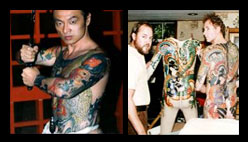 "SHOW DOWN IN LITTLE TOKYO" starring Cary Tagawa was a movie that also incorporated what we call the "wet process." The wet process is used for major sized tattoos that actually circumference the whole body. In this process we print the tattoos and while the ink is still wet, we transfer the patterns on to the body. The principal tattoo make-up artists were Mr. Blau and Mike Hancock.
Copy Cat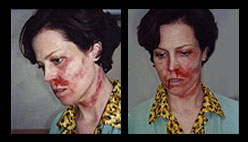 "COPY CAT" starring Sigourney Weaver presented another challenge. Because Ms. Weaver had to look tortured, beat up and bruised, the challenge was to be able to makeup the wounds and not interfere with her performance by multi 'touch-ups.' Mr. Blau used the REEL Cover-Up/Effects Palette and REEL Body Art Inks. Because the inks were long lasting he had to do minimal touch up's and Ms. Weaver had time to herself to keep in character for the very difficult scenes she had to act.
Batman and Robin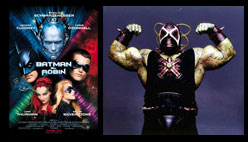 One of our favorite make-up renderings is on the actor 'Jeep' who played "Bane" in the movie "BATMAN AND ROBIN" starring George Clooney, Arnold Schwarzenegger, and Uma Thurman. In this movie, Academy Award winner Ve Neil was the designer and head make-up artist. Rick Stratton and Brian Penikas did the intricate make-up on "Bane" using REEL Body Air Brush Inks. Even though the make-up took approximately 3 hours to render in the mourning, the 'after lunch' touch up's usually took about 20 minutes. Reel Body Art Inks really last. GET REEL!
To see the Reel Creations products we offer in our PRO store, click HERE: Reel Creations or drop by our store.